Another week has gone by and this one was even more eventful than the last.
To start things off last Friday, 6 students competed at the FCCLA District 1 STAR Competition with all of them receiving a silver or gold medal. They will all be moving forward to the state competition in April. Macy Neumeister and Mackenzi Berglund earned Gold. Tanner Simrell, Ashley Adkins, Issy Bare, and McKenzie Snyder all earned Silver.
Meanwhile at the Glenwood JV Wrestling Invitational there were quite a few strong performances: 1st Place: Hayden Schalk, Andres Pro, Brexton Roberts, Clay DuVall, Armando Pacheco, Gavin Bailey and Wyatt Roberts. 2nd Place: Mellicha Vasser, Kyler Arthur, and Jesse Rodriguez. 3rd Place: Dalton Kipper, Pacie Lee, Martin Quijada, and Cadence Moyer. 4th Place: Lexi Southard.
Then on Saturday the 25th, our Speech Team attended the meet at Concordia University and finished as team runners-up to Seward High School. Ellie Higgins placed 1st in all three of her events, consisting of humorous, serious, and impromptu, she tied for the triathlon award of the meet. Eli McNeely placed 3rd in both his extemporaneous and impromptu events. Sarah Murray placed 2nd in persuasive along with 2nd in duet with her partner Kelly Gonzalez. Kelly also placed 4th in serious prose. Izabella Earll placed 4th in poetry and 6th in extemporaneous, Kiera Rakowski placed 6th in poetry. Dalton Cooper placed 3rd in entertainment, Marcus Bartman placed 5th in entertainment, Katie Dia placed 6th in entertainment. Isabelle Bare took 5th place in humorous, Sydney Blum took 4th place in informative. Finally the O.I.D. team which included Eric Poggemeyer, Trey Pursel, Eli McNeely, Christian Tietz, and Isabelle Bare earned 5th place honors.
To start this week, on Monday the Wrestling team attended the Weeping Water tournament. 1st Place: Hayden Schalk, Clay DuVall, and Wyatt Roberts. 2nd Place: Andres Pro, and Armando Pacheco. 3rd Place: Jesse Rodriguez. The freshmen boys basketball team played at Auburn and the first dress-up day of January Joust was Resolutions day.
Also on Monday, the following students attended the Iowa Western Honor Band: Bella Earll, Saharra Hershey, Kiera Rakowski, Natalie Turner, Lorelei Rakowski, and Vilard Saraison.
On Tuesday the Basketball teams travelled to their EMC games. The girls went to Elkhorn and the boys to Bennington, while the freshmen boys played at Falls City. The dress up day was Blizzard day.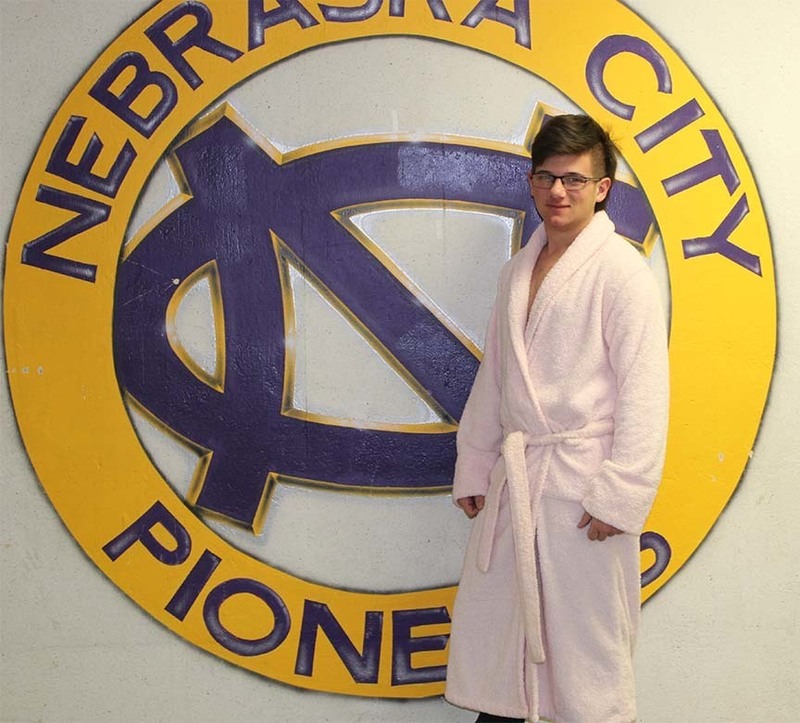 Wednesday's dress up theme was Relaxin'.
Thursday was a busy day with JV Wrestlers traveling to Freeman where Hayden Schalk placed 1st and Andres Pro and Armando Pacheco took 2nd. The Varsity went to Ashland-Greenwood, where they won as a team. The Freshman Boys Basketball team hosted Beatrice and the dress up day was Snow Gear.
Friday the Wrestlers have a home meet against Platteview, the Student Council announced its Students of the Week- Gabby Delgado and Zeke Inman, and the final dress up day of January Joust is Groutfit.
On Saturday our Speech team is traveling to the Lincoln Northeast meet and the Wrestlers will be at the EMC tournament.
Joke of the Week-
Q: Why did the traffic light turn red?
A: You would to if you had to change in the middle of the street!